2024 El-Brim-Ick
Parking
The race starts at Craibstone Golf Club and there will be parking available but may be limited depending on how busy the golf course is. Runners are encouraged to car share where possible and parking is also available at the nearby Brimmond and Elrick Car Parks.
Entry Fee
£6.00. No on the day entries
Course Records
2023 is a new route due to forestry damage. M Robbie Simpson (2012) 19.30 M40 Dave Armitage (1995) 21.16 M50 Dave Armitage(2002) 23.17 M60 Phil Cowie (2017) 27.47 F Sonia Armitage (1995) 23.21 F40 Claire Whitehead (2017) 24.49 F50 Veronique Oldham (2018) 26.30 F60 Anita Hamilton (2018) 36.56
Notes
There will be limited course markings on the route.  Runners are expected to be able to navigate.  The higher sections are exposed so runners should come prepared.  No dogs allowed on the course with runners.
Due to the Tyrebagger car park still being closed, this is a new route and there are some sections on tarmac. 
There will be marshals located at strategic locations and road crossing. They are primarily there for your safety and direction guidance if required. Please adhere to them.
Toilets will be available at the Club House.#
Mandatory Kit. The race is organised under Scottish Hill Runners rules.  All runners will be expected to wear or carry the following: (1) Full waterproof body cover; (2) Hat and gloves; (3) Map, compass and whistle.  There will be a kit check before the start.  A mobile phone can be carried but isn't a substitute for the map and compass which must be carried.

The race is run under Scottish Hill Runners guidelines and rules.  You enter the event understanding that you are responsible for your own safety.
Results
2023 Results
Also see our other Races information.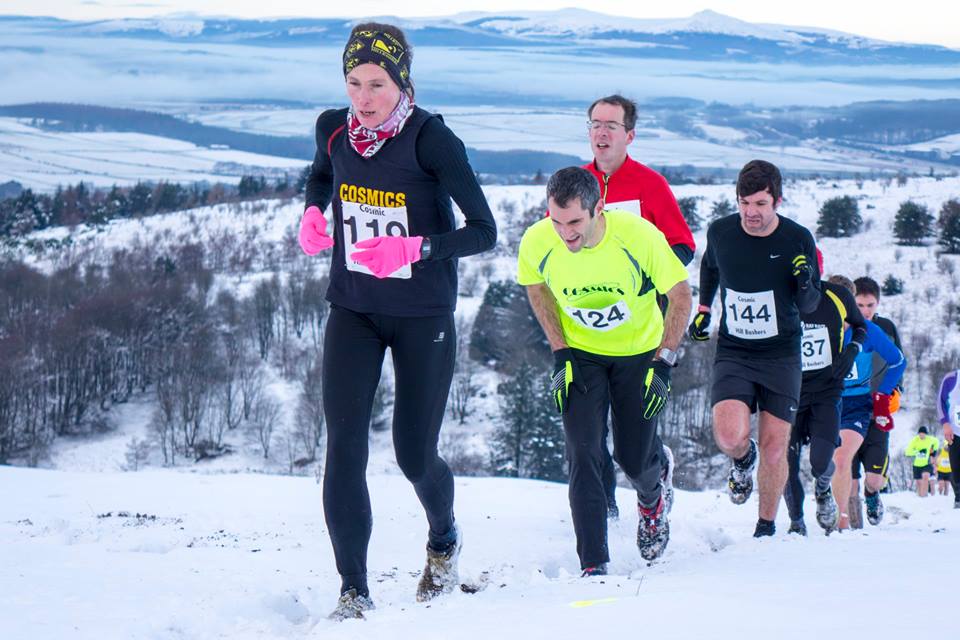 2016, photo Mike Raffan