2022 Clachnaben Hill Race (SHR Championship race)
Description
Prizes.
Age category prizes:
Female senior/FV40/FV50/FV60/FV70
Male senior/MV40/MV50/MV60/MV70
Prize giving around 2pm
Entries are £13. NO ENTRIES ON THE DAY.
All runners must be 18 or over on race day.
Registration. All runners must register and collect their bib number by 11am.
Mandatory Kit. The race is organised under Scottish Hill Runners rules.  All runners will be expected to wear or carry the following: (1) Full waterproof body cover; (2) Hat and gloves; (3) Map, compass and whistle.  There will be kit check before the start.  A mobile phone can be carried but isn't a substitute for the map and compass which must be carried.
Water stations. There will be limited water available at the start
Refreshments. Refreshments (teas and cake) might be available depending on the current Covid guidelines at the time of the run. 
Parking. The race starts in the woods to the west of the Old Military Road between the B974 and B976.  Parking will be signed but is up the second forest access road which is north of of the road up to the start area.  A marked route will lead to the start.  Where possible with COVID rules, please car share.
Course. There will be limited course markings on the route.  Runners are expected to be able to navigate and visibility can be reduced with low cloud and mist.  The higher sections are exposed so runners should come prepared.  No dogs allowed on the course with runners.
There will be marshals located at strategic locations. They are primarily there for your safety and direction guidance if required. Please adhere to them.
Toilets may be available at the start/finish, depending on the Covid guidance at the time.
The race is run under Scottish Hill Runners guidelines and rules.  You enter the event understanding that you are responsible for your own safety.
Registration Time
10:00 - 11:00
Parking
By Strachan, Parking is off road in the forest at GR NO644907 - please allow 15 mins to walk from the parking to the registration.
Course Records
M Joe Symonds (2012) 1.02.43
F Stephanie Provan (2017) 1.17.40
Results
Also see our other Races information.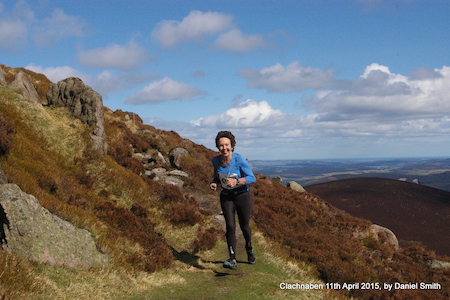 Clachnaben Hill Race