2019 Clachnaben Hill Race
Parking
By Strachan, Parking is off road in the forest at GR NO644907 - please allow 15 mins to walk from the parking to the registration.
Course Records
M Joe Symonds (2012) 1.02.43
F Stephanie Provan (2017) 1.17.40
Notes
The race starts in the woods to the west of the Old Military Road between the B974 and B976. Parking will be signed but is up the second forest access road which is beyond the road up to the start area and then a marked route will lead to the start.
The course will be marked but the higher sections are exposed so competitors must be familiar with the area and know any escape routes.
All competitors will be expected to wear or carry the following or you may not be allowed to compete in the race;
Full waterproof body cover
Hat and gloves
Map, compass and whistle.
A mobile phone can be carried but isn't a substitute for the map and compass which must be carried
No dogs allowed on the route with competitors
The race is run under Scottish Hill Runners guidelines and rules. You enter the event understanding that you are responsible for your own safety.
Results
Also see our other Races information.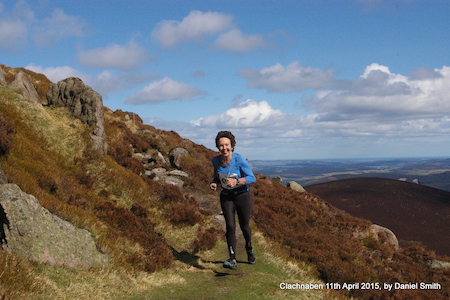 Clachnaben Hill Race